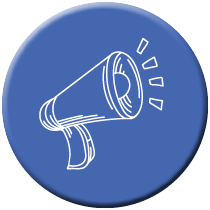 Would you like to raise the profile of your organisation, but feel like you lack the time and budget to do it well?
Would you like to know how to make the most of your communication channels so that the time you spend is truly effective?
This workshop gives you loads of practical tools and strategies for raising your profile so that the community knows who you are, what you do and why you're worthy of support. Lots of simple ideas that can be easily implemented in your organisation.
In this workshop you will discover:
How to grab people's attention
How do you cut through the clutter and let people know your organisation exists?
Why people are not banging down your door with support
What do people need to know before taking action? How can you share that message in a way that sticks, without breaking the bank?
How to use your existing communication channels more effectively
What are some simple ways to maximise your newsletter, website and Facebook page?
Why using local media is still important for non-profit organisations
How can you get yourself in the media spotlight for all the right reasons?
A range of opportunities to raise your profile on a limited budget
This is a truly practical workshop full of simple ideas that you can immediately put into practice. We guarantee you will find easy, cost effective ways to improve what you're doing and further raise your profile in the community.
What others say:
"The workshop gave me the confidence to execute a great plan. It opened up so many opportunities."
Janine Lepper, PHAB Auckland
"The enthusiasm that Kerri has is infectious. I feel inspired to invest time outside of normal daily tasks to make improvements."
Michelle Thompson, Palmerston North Council of Social Services
"Fantastic! Inspiring! Makes it all look possible. I can now see the potential out there. Clear tools that I can use immediately."
Jenny Keene, Kaipupu Point Sounds Wildlife Sanctuary
Workshop Delivery Options:
Available both privately and publicly
Full Day
Online Zoom
Contract
Want to know more? Fill out the form below and we will get in touch with you.
Raising Your Profile Workshop Enquiry