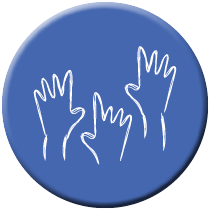 Growing Great Volunteer Teams
Do you wish you had more people helping out, more often?
Do you attract a steady stream of volunteers but find they never stick around for long?
When it comes to volunteering, people are spoiled for choice. There is no shortage of organisations to get involved with, so in order to attract volunteers and keep them on-board, you need to offer them the best possible experience. Learn what drives people to volunteer and discover simple strategies for ensuring your volunteers get what they need to stay involved.
In this workshop you will discover:
If your organisation is even ready for volunteers.
Are you losing volunteers before they properly come on-board? What things do you need to have in place before you start recruiting?
How to ensure your organisation offers a good fit for potential volunteers.
Is there more than one model of volunteering and should you even care? What things do you need to consider in creating a 'good fit'?
The difference between Recognition and Appreciation.
What do volunteers really need to feel appreciated and how can you give it to them effectively?
What being part of a team really means to volunteers.
Are you providing a true team environment or is there an under-current of 'them and us'?
What makes a volunteer experience go from good to great?
What are the simple things you can do to leave a lasting impression and develop loyalty in your volunteer team?
This workshop gives you loads of practical ideas for making your organisation a place where everyone wants to volunteer. Get more people helping out more often, with more fun and more impact.
What others say:
"Excellent ideas that can be used in every volunteer group. Sensible, practical practices to put in place." Liz Shea, Mid and South Canterbury Community Trust
"Loved everything about this workshop. Extremely engaging, encouraging and informative."
Louise Duke, Caninspire Charitable Trust
"An excellent workshop with really helpful information. I learnt alot and will definitely implement some ideas. Dynamic, informative and fun." Gillian Collins, Timaru RDA
Workshop Delivery Options:
Available both privately and publicly
Full Day
Half Day Express
Online Zoom
Contract
Want to know more? Fill out the form below and we will get in touch with you.
Upcoming Workshops
There are no scheduled Growing Great Volunteer Teams workshops at this time.
Sign up to our newsletter
to receive the latest updates
Growing Great Volunteer Teams Workshop Enquiry