Feature articles in the latest Tonic Magazine
Here's what's in the latest issue:
Issue 60, November 2023 – January 2024:
Five Good Ideas: Leadership Transition Planning
Lots of Small Adds to Big: Focus on recurring giving
Exploring Year-End Fundraising: What can we borrow?
Social Savvy: Making it manageable and reviewing your progress
Workplace Bullying: The impacts and what you might see
Supporting Neurodiversity in Your Organisation: Top tips and accommodations
Be the Change: Harnessing technology to drive positive transformation
Engaging and Retaining Volunteers: The power of recognition
Being Prepared: What role will your organisation play in an emergency?
Beyond Governance: How boards can create value
Nine Jellyfish are Going Around in Circles: Coping with intrusive thoughts
The Powerful Barrier to Success Nobody Talks About: Do you have a shame wound?
An interview with Kerri Price, The Facilitators Network
PLUS in every issue you will find:
A list of upcoming funding rounds for local, regional and national funders
Information about what's new in the sector – policies, legislation and community research
Innovative ideas and solutions to your organisation's challenges, and
Practical ideas for looking after yourself and your team
Request a FREE copy of Tonic Magazine
Want to know what all the fuss is about? If you've never seen a copy of Tonic Magazine, and you want to know what all the fuss is about, email hello@exult.co.nz with your name and postal address to request a free copy.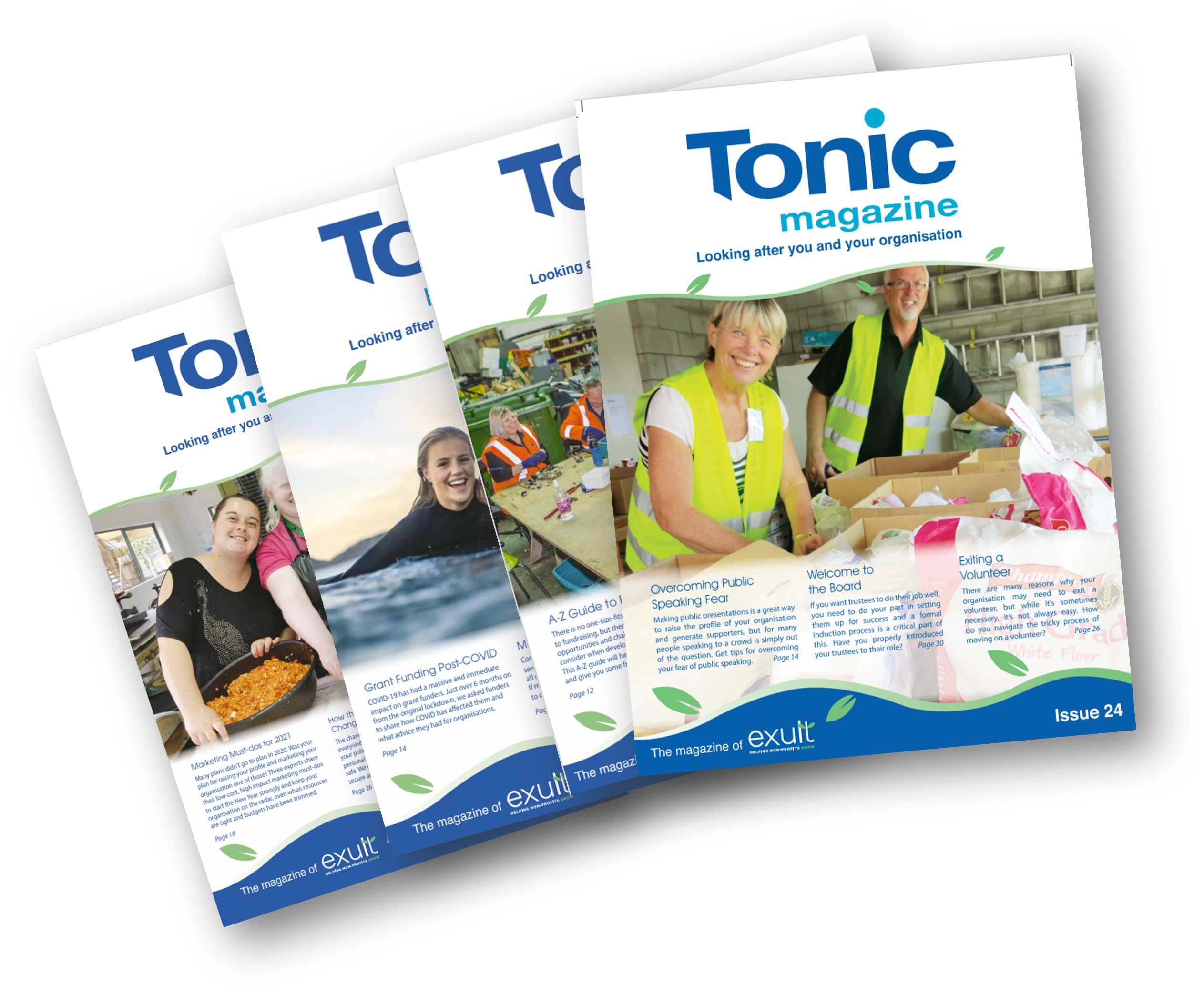 What People Say About Tonic Magazine
"Thank you for the best magazine ever. It is one of the most useful tools you can have in a non-profit organisation."
Ella Scheepers,

THINK – The Head Injury Network for Kiwis
"We're always blown away by how much information you can fit into one magazine. We'd be lost without it."
Pam Mankelow,

Bluelight Gisborne
"We just got our latest Tonic Mag. Just wanted to say you do an excellent job of putting it together and presenting a quality helpful publication! We are being inspired and equipped by it."
Lynette Webb,

Churches Volunteering in Communities Trust
"We find Tonic Magazine to be exceptional value, always full of great information and advice and it always gets passed around our team and often to the Board."
Julie Sparks,

Step Ahead Trust
Tonic Membership
From: $99.00
Tonic Membership includes:
4 issues of Tonic Magazine
48 issues of Tonic Club
10% discount on Workshops
FREE Funding Wall Planner
Access to Tonic Members Facebook Group
For more specific information on each resource and benefit, click here.