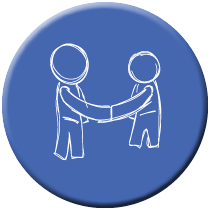 Would you like to secure business sponsorship, but are unsure where to start?
Do you wonder why other organisations can attract big sponsors when you can't?
Would you like to change your sponsorship relationships so that they offer real value to your organisation?
The Secret of Sponsorship is a one day workshop for schools, sports clubs, event organisers and non-profit organisations and explores the idea of developing business sponsorship for your organisation.
In this workshop you will discover:
The difference between donations and sponsorship. Are you approaching sponsorship in the right way?
Where to find potential sponsors in your own community. Which businesses would make a great fit and how do you approach them?
What businesses are looking for in a sponsorship relationship. Is it really logos and thank you speeches or have you been missing the mark?
The true value of what you have to offer. How do you provide genuine sponsor benefits without 'selling your soul'?
How a sponsor can actually add value to your programme or service. It's not all about money or product.
The ins and outs of sponsorship proposals and contracts. How do you manage the process for the best chance of success?
The importance of developing a genuine relationship with existing sponsors and how you can do it well.
This one day workshop will give you the tools and strategies you need to develop an effective sponsorship plan, and will leave you feeling re-energised in the process. Be prepared to re-think how you do sponsorship in your organisation.
What others say:
"Sponsorship is working a treat. Your strategies are so good that for the last two events I have had businesses offer to be the main sponsors before I have had to ask."
Judith Challis, Pohlen Foundation
"I have been organising sponsorship for events for 8 years. I wish I did this course 8 years ago!"
Julie Hughes, Arrow Events
"The most practical, helpful and inspiring sponsorship workshop I have been to in 20 years. Loved it and would highly recommend it." Lisa McKimm, ParentingWorx
Upcoming Workshops
There are no scheduled Secret Of Sponsorship workshops at this time. Sign up to our newsletter to receive the latest updates